Eva Calor Petra only £995.00 inc vat USED
Slender shape, depth of 25 cm, 9 kW output, cast iron combustion chamber, rear or upper fume outlet; to all this we have added natural stone cladding to make this an exclusive stove. Optional vent and suspension kits are available.
RRP £2882.40 Inc Vat EX-DISPLAY ONLY £995.00 INC VAT USED
Total heat output: max 10,4 kW – min 3,5 kW
Nominal heat output: max 9 kW – min 3,2 kW
Efficiency: Pmax 87,0% – Pmin 90,5%
CO emission at 13% O2: Pmax 0,012% - Pmin 0,020%
Pellet consumption: max 2,2 kg/h - min 0,7 kg/h
Reservoir capacity: 13,5 kg
Heatable room volume: 140 – 200 mc
Minimum distances from flammable walls: side: 25 cm - back: 10 cm - front side: 100 cm
Voltage / Frequency: 230 V / 50 Hz
Rated input power: 330 W
Dimension: L 85 x P 25,2 x H 102,5 cm
Weight: 111,9 kg
Cast iron heating chamber: Cast iron
Complies with: EN14785 - BImSchV II - LRV/VKF
Sliding drawer for ash removal
Fume outlet: Top - Rear
Remote control: Optional
GPRS module for switching on remotely: Optional
WIFI module for remote control: Optional
Basic canalization kit: Optional
Wall-hanging Kit: Optional
Platforms for protection: Optional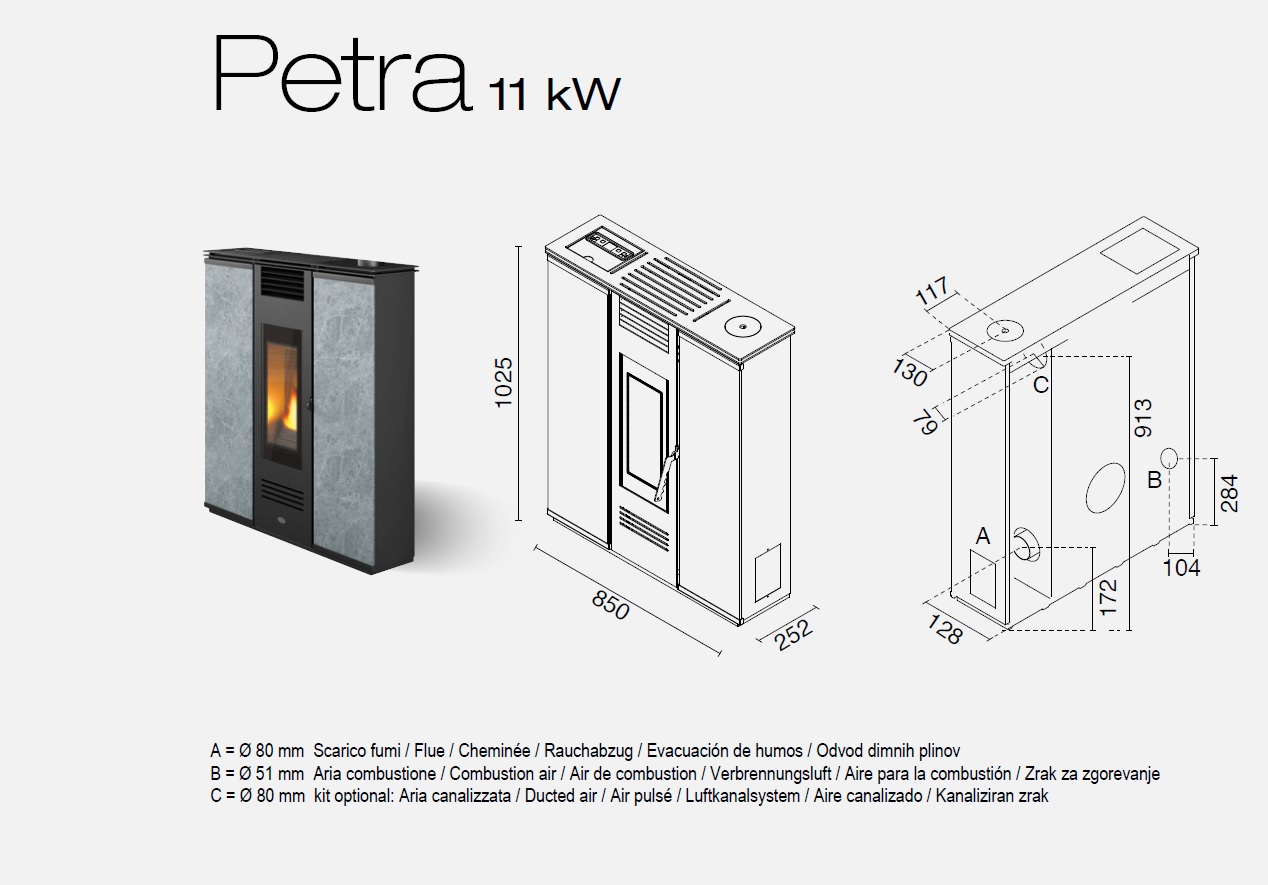 This appliance has been on display in our Showroom and is now available for sale. We recommend inspection before purchase.